The prime function of a Rotary Airlock is to regulate the flow from one chamber to another while maintaining a good airlock condition. The product is mainly in dry powder or granular form. In the dust filtration field, a good airlock is essential on cyclone and bag filter applications in order that the manufacturers quoted high dust collection efficiencies can be maintained. Airlocks are also important in the pneumatic conveying industry, where product is regulated into a pressure or vacuum conveying line while minimising air leakage. With Rotolok there are no double standards, all our standard rotary valves and airlocks are precision machined for close tolerances and minimal eccentricities. Pressure differentials to 20psi and temperatures to 750°F are considered the norm and extreme pressures and temperatures can be accommodated with special designs. If your application requires such considerations contact the Rotolok Engineering team.
Our standard Rotary Airlocks are available with circular or square inlets from 2″ up to 36″.
BODIES

Cast Iron, Stainless Steel or Aluminum precision bored.

END COVERS

Cast Iron, Stainless Steel or Aluminum spigot located in body for concentricity.

ROTOR

Fabricated Mild or Stainless Steel.

SHAFT SEAL

Gland type with PTFE packing.

BEARINGS

Sealed-for-life ball type rigged outboard or high temperature above 480°F.

DRIVE

NEMA Frame C-Face TEFC motor mounted to parallel shaft gear reducer sidewall mounted to airlock body complete with taper lock sprockets and chain all in an enclosed OSHA approved guard
Quick Release Rotors
Direct Coupled Drives
Air Purge Glands
Body Vents
Inlet Vent Hoppers
Dropout Boxes
V.S. Drives
Speed Switches
Explosion Proof Motors
Shear Plate Deflectors
Tungsten Carbide Coating
Hard Chrome Internals etc.
All dimensions are in inches unless otherwise stated
| SIZE | A | A1 | B | B1 | C | D | E | F | G | H | J | K | L | M | N | P | Q | R | S | T | V | W | X | H.P. |
| --- | --- | --- | --- | --- | --- | --- | --- | --- | --- | --- | --- | --- | --- | --- | --- | --- | --- | --- | --- | --- | --- | --- | --- | --- |
| 5 | 5 | 5 | 8 ⅞ | 8 ⅞ | ½ | 3 ⅞ | 7 ¾ | 7 ⅞ | 6 ¼ | 9 ⅛ | 16 | 8 ⅝ | 7 | 28 | 4 ⅝ | 8 | ⁹⁄₁₆ | 8 | 7 | On Application | | | | ½ |
| 6 | 6 | 6 | 9 ⅞ | 9 ⅞ | ½ | 5 ½ | 11 | 7 ⅛ | 6 ⅞ | 9 ¾ | 16 | 9 ¼ | 7 ¾ | 28 | 4 ⁵⁄₁₆ | 12 | ½ | 8 | 7 | 3 | 2 ¾ | 3 | 2 ¾ | ½ |
| 8 | 8 | 8 | 11 ⅞ | 11 ⅞ | ⅝ | 6 ½ | 13 | 6 ⅛ | 7 ⅞ | 10 ¾ | 16 | 10 ¼ | 8 ⅝ | 28 | 5 ⅝ | 12 | ½ | 8 | 7 | 3 | 3 ⁹⁄₁₆ | 3 | 3 ⁹⁄₁₆ | ½ |
| 10 | 10 | 10 | 13 ¼ | 13 ¼ | ⅝ | 7 ½ | 15 | 7 ⅞ | 9 | 12 ¾ | 18 ⅞ | 11 ½ | 9 ⅞ | 35 | 6 ⁵⁄₁₆ | 12 | ⁹⁄₁₆ | 10 | 8 | 3 | 4 | 3 | 4 | 1 |
| 12 | 12 | 12 | 15 ¾ | 15 ¾ | ½ | 9 ¹⁄₁₆ | 18 ⅛ | 6 ¾ | 10 ¼ | 13 ⅞ | 18 ⅞ | 12 ⅝ | 11 | 35 | 7 ¹¹⁄₁₆ | 12 | ½ | 10 | 8 | 3 | 4 ¹¹⁄₁₆ | 3 | 4 ¹¹⁄₁₆ | 1 |
| 14 | 14 | 14 | 18 ½ | 18 ½ | ¾ | 10 ⅛ | 20 ¼ | 6 ¼ | 10 ⅝ | 14 ⅜ | 20 ⅛ | 13 | 11 ⅜ | 35 | 8 ¹¹⁄₁₆ | 12 | ½ | 10 | 8 | 3 | 5 ½ | 3 | 5 ½ | 1 |
| 16 | 16 | 16 | 21 ⅝ | 21 ⅝ | ¾ | 11 ⅞ | 22 ⅞ | 4 ½ | 13 | 16 ¾ | 24 ⅝ | 15 ⅞ | 13 ⅞ | 50 | 9 ¼ | 12 | ¹¹⁄₁₆ | 14 | 9 | 3 | 6 ½ | 3 | 6 ½ | 1 ½ |
| 18 | 18 | 18 | 24 | 24 | ¾ | 12 ⅝ | 24 ⅞ | 3 ⅜ | 14 | 17 ¾ | 24 ⅝ | 16 ⅞ | 14 ⅞ | 50 | 11 ¼ | 12 | ¹¹⁄₁₆ | 14 | 9 | 3 | 7 ⅜ | 3 | 7 ⅜ | 2 |
| 20 | 20 | 20 | 25 ⅝ | 25 ⅝ | ¾ | 13 ⅜ | 26 ⅜ | 5 | 15 | 18 ¾ | 27 ½ | 17 ⅞ | 15 ⅞ | 50 | 11 ⅜ | 16 | ¹¹⁄₁₆ | 14 | 9 | 4 | 5 ¹³⁄₁₆ | 4 | 5 ¹³⁄₁₆ | 2 |
| 24 | 24 | 24 | 29 ½ | 29 ½ | ¾ | 15 | 29 ½ | 4 ½ | 17 | 20 ¾ | 27 ½ | 19 ¾ | 17 ¾ | 50 | 13 ³⁄₁₆ | 16 | ¹¹⁄₁₆ | 14 | 9 | 4 | 6 ¹³⁄₁₆ | 4 | 6 ¹³⁄₁₆ | 3 |
| 30 | 29 ½ | 29 ½ | 39 ⅜ | 39 ⅜ | 1 | 19 ⅝ | 39 ⅜ | 3 | 19 ¾ | 25 ¼ | 35 ¾ | 23 ⅞ | 20 ½ | 70 | 17 ¹¹⁄₁₆ | 24 | ¹¹⁄₁₆ | 20 | 12 | 6 | 5 ⅞ | 6 | 5 ⅞ | 3 |
| 36 | 36 | 36 | 45 ⅞ | 45 ⅞ | 1 | 23 ⅝ | 47 ¼ | -1 | 23 ⅞ | 29 ½ | 39 ⅜ | 27 ⅞ | 24 ⅝ | 70 | 21 ¼ | 24 | ⅞ | 20 | 12 | 6 | 6 ⅞ | 6 | 6 ⅞ | 5 |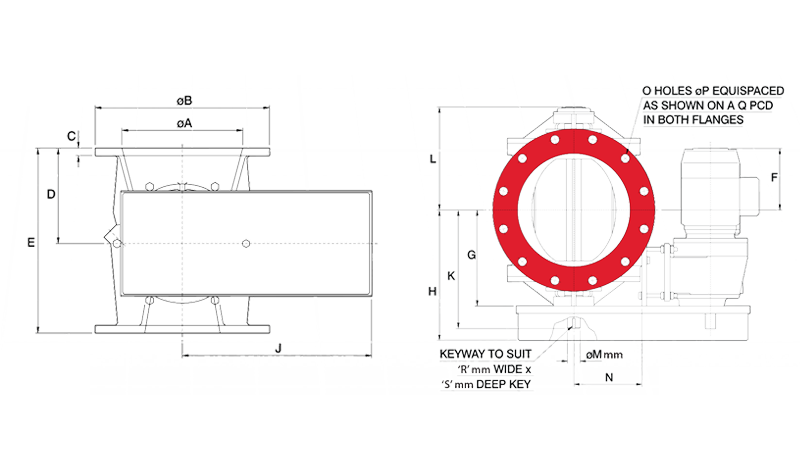 All dimensions are in inches unless otherwise stated
| SIZE | A | B | C | D | E | F | G | H | J | K | L | M | N | O | P | Q | R | S | H.P. |
| --- | --- | --- | --- | --- | --- | --- | --- | --- | --- | --- | --- | --- | --- | --- | --- | --- | --- | --- | --- |
| 2 | 2 | 6 | ⅜ | 2 ⅜ | 4 ¾ | * | 3 | ON APPLICATION | | | | | | | | | | | |
| 3 ½ | 3 ⅜ | 7 ½ | ⅜ | 3 ⅛ | 6 ¼ | * | 4 ⅝ | ON APPLICATION | | | | | | | | | | | |
| 5 | 5 | 9 ½ | ½ | 4 ¼ | 8 ½ | 7 ¾ | 6 ¼ | 9 ⅛ | 16 | 8 ⅝ | 7 | 28 | 5 ⅝ | 8 | ¹¹⁄₁₆ | 7 ⅞ | 8 | 7 | ½ |
| 6 | 6 | 11 ¼ | ½ | 5 ½ | 10 ⅝ | 7 ⅛ | 6 ⅞ | 9 ¾ | 16 | 9 ¼ | 7 ⅝ | 28 | 5 ⅝ | 8 | ⅞ | 9 ½ | 8 | 7 | ½ |
| 8 | 8 | 12 ½ | ½ | 6 ¼ | 12 ¼ | 6 ⅛ | 7 ⅞ | 10 ¾ | 16 | 10 ¼ | 8 ⅝ | 28 | 5 ⅝ | 8 | ¹¹⁄₁₆ | 11 | 8 | 7 | ½ |
| 10 | 10 | 14 ½ | ⅝ | 7 ⅞ | 15 | 8 | 9 | 12 ¾ | 18 ⅞ | 11 ⅜ | 9 ¾ | 35 | 6 ⅛ | 8 | ¹¹⁄₁₆ | 12 ⅝ | 10 | 8 | 1 |
| 12 | 12 | 17 ⅜ | ¾ | 9 ½ | 18 ⅜ | 6 ¾ | 10 ¼ | 13 ⅞ | 18 ⅞ | 12 ⅝ | 11 | 35 | 7 ¹¹⁄₁₈ | 12 | ⅞ | 15 ½ | 10 | 8 | 1 |
| 14 | 14 | 21 | ¾ | 10 ⅝ | 20 ½ | 6 ⅜ | 10 ⅝ | 14 ⅜ | 20 ¼ | 13 | 11 ¾ | 35 | 8 ¹¹⁄₁₈ | 12 | ⅞ | 17 ½ | 10 | 8 | 1 |
| 16 | 16 | 21 ¼ | ¾ | 11 ⅞ | 22 ⅞ | 4 ⅜ | 13 | 16 ¾ | 24 ⅝ | 15 ⅞ | 13 ⅞ | 50 | 9 ¼ | 12 | ⅞ | 19 ½ | 14 | 9 | 1 ½ |
| 18 | 18 | 25 | ¾ | 12 ⅝ | 24 ⅝ | 4 | 14 | 17 ¾ | 24 ⅝ | 16 ½ | 14 ⅞ | 50 | 11 ¼ | 16 | 1 ¼ | 22 ¾ | 14 | 9 | 2 |
| 20 | 20 | 27 ½ | ¾ | 13 ⅜ | 26 ⅜ | 5 | 15 | 18 ¾ | 27 ½ | 17 ⅞ | 15 ⅞ | 50 | 11 ⅜ | 20 | 1 ¼ | 25 | 14 | 9 | 2 |
| 24 | 24 | 32 | ¾ | 15 ⅛ | 30 | 5 | 17 | 20 ¾ | 27 ½ | 19 ¾ | 17 ⅞ | 50 | 13 ³⁄₁₆ | 20 | 1 ⅜ | 29 ½ | 14 | 9 | 3 |
| 30 | 30 | 38 ¾ | 1 | 19 ⅝ | 39 ⅜ | 2 | 19 ¾ | 25 ½ | 35 ⅞ | 23 ⅞ | 20 ½ | 70 | 17 ¹¹⁄₁₈ | 20 | 1 ⅜ | 36 | 20 | 12 | 3 |